STF Events: 2016-2017
…
STF Special Screening: "Tickling Giants"
STF hosted a special screening of "Tickling Giants," a new documentary about freedom of speech, on Wednesday, June 14 at New Roads School in Santa Monica. We want to gather leaders to give us feedback on further use of the film, so this is a select preview screening for STF students, teachers and friends of STF.
Wednesday, June 14, 2017
5:00pm | Doors open
5:45-8:00pm | Film screening
New Roads School at the Herb Alpert Educational Village
3131 Olympic Blvd.
Santa Monica, CA 90404
About the film: In the midst of the Egyptian Arab Spring, Bassem Youssef makes a decision that's every mother's worst nightmare… He leaves his job as a heart surgeon to become a full-time comedian.
Dubbed, "The Egyptian Jon Stewart," Bassem creates the satirical show, Al Bernameg. The weekly program quickly becomes the most viewed television program in the Middle East, with 30 million viewers per episode. The Daily Show with Jon Stewart averaged two million viewers.
In a country where free speech is not settled law, Bassem's show becomes as controversial as it popular. He and his staff must endure physical threats, protests, and legal action, all because of jokes. As Bassem attempts to remain on the air, keep his staff safe, and not get arrested, he continues to let those in power know they're being held accountable. Despite increasing danger, the team at Al Bernameg employ comedy, not violence, to comment on hypocrisy in media, politics, and religion.
"Tickling Giants" follows the team of Al Bernameg as they discover democracy is not easily won. The young women and men working on Bassem's show are fearless revolutionaries, who just happen to be really, really funny
….
"You Handed Us Our Lifeline"
Photos by Patricia Williams
April 25, 2017: At STF's Year-End Leadership Workshop, Sara Kruzan, human rights defender and formerly incarcerated youth, shared her heart-rending story of being sex trafficked at age 13 and being sentenced to juvenile life without parole (JLWOP) at 16 for killing her pimp. Through emotions of joy and pain, she reminded her audience why STF's work is so critical: "When you are incarcerated you are made to feel that you don't have a place. You begin to question your purpose and value; do you even matter? It is individuals, like you guys (STF has repeatedly worked on juvenile justice issues), who really care, that make the difference. You hand us our lifeline… The work that you're doing is absolutely amazing. Each of you has the ability to make a change. You may not have the opportunity to see the effects, but you will feel the difference in your heart."
[Note: An earlier generation of STF chapters joined thousands of activists writing to and advocating for Governor Schwarzenegger to grant Sara clemency. In 2011 the Governor commuted her sentence and Sara was ultimately paroled in 2013 from Central California Women's Facility in Chowchilla after serving 19 years.]
Sara was introduced at the workshop by veteran juvenile justice activist Javier Stauring, who met with STF last fall to educate students about the Proposition 57 campaign for juvenile justice. Students, teachers and special guests from 12 STF chapters gathered at the workshop to continue to learn how to be more effective human rights advocates and to remember we are part of something bigger than ourselves, or just one school.
Student leaders also reviewed the spring "Know Your Rights, Protect Our Rights" campaign, and the recent productive STF delegation meeting with Congressman Ted Lieu.
…..
Partisans for Human Rights
April 24, 2017: STF leaders from Crossroads, New Roads, Palisades Charter and Santa Monica High Schools met with Congressman Ted Lieu (33rd District) to thank him for being an outspoken supporter of human rights and to express concern about how social divisions across the country are affecting the vulnerable populations STFers care about.
Congressman Lieu encouraged STFers to continue to raise their voices and educate their communities about the issues they are passionate. "After the election, I was really down. On January 21, I stopped being sad. The Women's March is the country I know. Rallies and protests, large groups of people pushing back against a smaller populist movement is important," he said.
The delegation shared STF's efforts to pass Proposition 57 and our work to reform California's juvenile justice system. They also explained the "Know Your Rights, Protect Our Rights" campaign and presented Congressman Lieu with a poster collage from Unity Day.
….
STF Unites for Human Rights
March 3, 2017: As part of their Know Your Rights, Protect Our Rights campaign, STF chapters are hosting "Unity Day" events to demonstrate their solidarity for human rights. Inspired by the successful Women's March in January, STFers hosted die-ins, human chains and art exhibits to call on their campus communities to stand up for human rights in the United States, especially for the protection of LGBT, immigration and women's rights.
Scroll to see photos of completed events: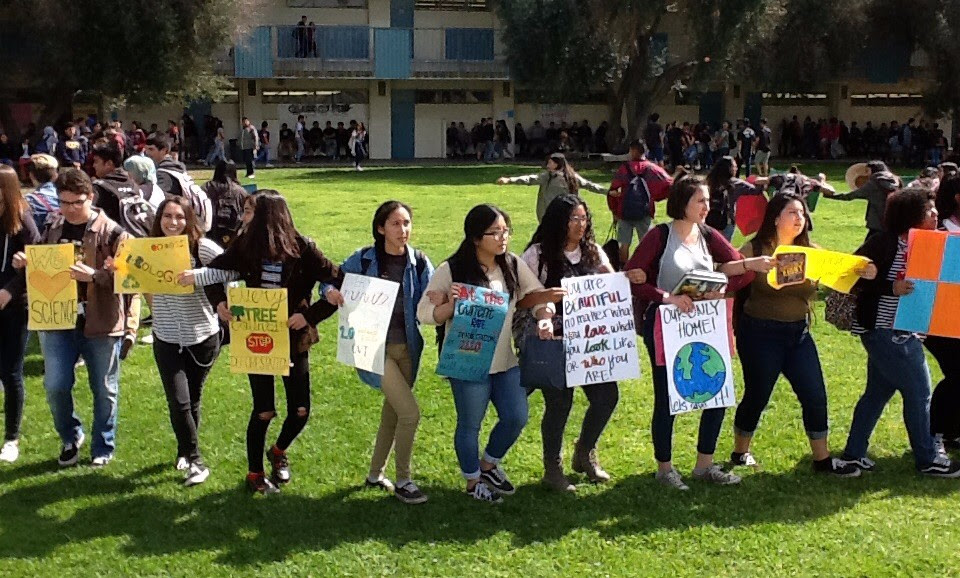 ….
STF Alumna on PBS News Hour
February 13: PBS News Hour, UC Berkeley, California: The front lines of human rights work have shifted in the digital age and STF Alumna Youstina Youssef, Academy of the Canyons 2015, is there.
As we near the gruesome sixth anniversary of the war in Syria, daily documents of the carnage there now flood the Internet. Photos and videos posted by both civilians and combatants catalogue the shocking depths of human cruelty and possible war crimes.
Now human rights investigators are increasingly turning to the Internet to track what's happening, not only in Syria, but in other conflict zones.
The News Hour reports on a new university program training students to become human rights investigators in the digital age.
For decades, human rights investigators have relied on tools like shovels and backhoes to uncover mass graves and mass atrocities in places like Bosnia, Iraq, and Rwanda. But in today's smartphone-filled world, videos and images of people killed or suffering thousands of miles away take only a couple of clicks to find on YouTube, Facebook, Twitter. A new generation of investigators is beginning to employ high-tech tools.
Youstina and other UC students are part of the recently launched Human Rights Investigations Lab at the University of California, Berkeley's Human Rights Center.
The university and partner organization Amnesty International are training the students to verify videos and other publicly available social media content coming out of areas like Syria, where human rights violations have been occurring.
For the first time, students are using open source investigation methods used previously by journalists and human rights professionals.
Youstina is a 20-year-old political science major in the program. She's become a highly skilled digital detective. And her native language, Arabic, also comes in handy. Youssef grew up in Cairo, Egypt. She and her family are Coptic Christians, a religious minority in Egypt. They came to the U.S. in 2010 shortly before the revolution began [and attended the Academy of the Canyons where she was a leader in STF].
Youstina said, "I didn't have a minute of hesitation about this (digital project) and I jumped right on it. I think it has a lot to do with my background of coming from Egypt, being a regular person, and then being affected by the political scene in the country, and having your life upended. This project gives me an outlet, gives me a way to feel like I am contributing in some way."
The 60-plus student volunteers are a diverse group from different majors and the law school. They speak more than 20 languages.
….
Know Your Rights, Protect Our Rights
Photo by Patricia Williams
January 26, 2017: "Human Rights Watch is urging President Trump to stop abusive and discriminatory proposals. His campaign rhetoric and the executive decisions he has made since taking office go against our values as human rights advocates. We are here today to use our voices and determine how we can protect human rights. We are not political partisans, we are human rights partisans," said STF leader Peter Jebsen as he welcomed students, teachers and special guests to the STF Winter Leadership Workshop.
Transgender teen, Jake Hofheimer, and immigration attorney, Haimanot Habtu, introduced challenges that the LGBTQ community and immigrants currently face under the Trump administration. Jake will lead the planning for a unity event to protect rights on all STF campuses this spring. Haimanot offered information for immigrants to consider regardless of their immigration status. Resources from both speakers will be available in the online STF campaign toolkit.
Students conducted role-play situations and asked each other what they would do if they witnessed hate speech. Later, in breakout groups, they were introduced to strategies to educate and activate their school communities to stand up for human rights.
….
Need-to-Knows of Women's March LA
Please join Human Rights Watch this Saturday, January 21 at the Women's March LA to "stand together in solidarity for the protection of our rights, our safety, our health, and our families — recognizing that our vibrant and diverse communities are the strength of our country."
Who: The march is open to everyone who stands for human rights, civil liberties, tolerance of diversity, and compassion for our shared humanity. Speakers include the founder of the Muslim Women Speakers Movement Soraya Deen, LA County Supervisor Janice Hahn, LGBTQ activist Abbe Land, Mayor Eric Garcetti, and many more.
When: Saturday, January 21, 2017 9:00am – 4:00am
Where: We will meet at 9:00am (new, earlier time!) in front of the Canadian Embassy at 550 S. Hope St, Los Angeles, CA 90071. Please let us know if you plan to march with HRW and wear a STF t-shirt or white!
We encourage all participants to use public transportation as parking will be limited. Check out LA Metro's website for trip planners to 7th/Metro Center and Pershing Square stations.
Metro public transit options from:
The Women's March LA is taking health and safety very seriously, there will be measures in place. Contact Kristin (760-846-2240) if you have trouble finding the meet-up location or any questions.
We look forward to seeing you at the Women's March LA!
….
STFers Go To Washington, D.C.
"Attending the inauguration was a moving experience for me. The relatively peaceful transfer of power from one administration to the next is something many countries cannot achieve. I am grateful for the institutions of democracy the U.S. upholds," says former STF Intern Ijeoma Oti, who currently is a USC student in the university's D.C. program. Ijeoma received inauguration tickets from Congresswoman Pelosi's office, and also attended the Women's March in DC with a majority of the students in her program the day after the inauguration.
Ijeoma, who is an intern for Los Angeles Congressmember Karen Bass, describes her work day: "There's a work-hard, play-hard atmosphere in our office, which is open from 8:30-6:00, and is extremely fast paced. It resembles most of the TV shows. We really do watch C-span all day and are constantly updating the website and prepping statements for incoming calls."
"Everyone is into politics. Everyone knows what's going on. There are even rules like walk left/stand right that people follow in order to allow the town to run fast and efficiently," reports Ijeoma.
Other former STF members and interns currently in Washington, D.C. are:
Reuben Bank, Undergraduate student at George Washington University
Amy Calfas, Generation Democracy Program Officer at International Republican Institute
Sarah Bessell, Staff Attorney at The Human Trafficking Pro Bono Legal Center
Travis Fujita, Undergraduate student at Georgetown University
Claire Goldberg, Undergraduate student at Georgetown University
Sharon Han, Intern at Representative Adam Schiff's office
Daniel Lynn, Master of Arab Studies student at Georgetown University
Alex Sleisenger, Master in International Economics student at Johns Hopkins
Anne Stotler, Presidential Management Fellow at U.S. Department of State
And many more!
Are you in Washington, D.C.? Let us know!
….
STF Rallies for CRC
…
STF Applauds Human Rights Defenders
Photos by Maya Myers
November 15, 2016: Students exchanged their backpacks and sneakers for dresses and ties at the 2016 Human Rights Watch Voices for Justice Dinner. STF leaders, teachers and supporters kicked off the night with a special reception with Yonous Muhammad, recipient of the 2016 Alison Des Forges Award for Extraordinary Activism, and HRW Greece Researcher, Eva Cossé. STFers were empowered by the human rights defenders' insight into how younger generations can make a difference in the world through awareness and resilience.
STFers also participated in a special human rights advocates "speed-dating," where they met with Holocaust survivor Dr. Henry Oster, young Syrian refugees Rodi and Ramadan Youssef, immigration lawyer Haimanot Habtu, and New Roads transgender student Jake Hofheimer. Each speaker shared their experiences with various human rights violations and answered questions from participants about their backgrounds.
During the dinner, students helped Human Rights Watch celebrate the passing of Prop 57 and honoring Yonous.
….
Ask President-Elect Trump to Support the CRC!
This Sunday, November 20, is the 27th anniversary of the Convention on the Rights of the Child (CRC). The United States remains the only country in the world to not ratify the CRC.
Now that we have a new president-elect, help us collect as many signatures as possible ahead of his inauguration on January 20, 2017, and ask Mr. Trump to send the CRC to the Senate for review during his first 100 days in office.
Thank you,
Pam, Nancy, Kristin, Angie, Audrey, Ariana, Michelle and Ijeoma
Download and print the CRC petition to President-elect Trump.
Learn More: HRW Q&A about the CRC
…
Congrats on Prop 57 Success!
We just received this message from HRW Senior Advocate Elizabeth Calvin to STF:
"A huge congrats on this win for Proposition 57. It was great to work with all of you! Thank you for every piece of it, including getting members to gather signatures and blowing past our goal, as well as the army of STF youth standing up in city council meetings, churches, and school and neighborhood gatherings, visiting college campuses and more. A tremendous, beautiful team effort.
Prop 57 goes into effect immediately, although the adult side of things will have to be worked out in regulations."
Stay tuned for updates on how Prop 57 will be implemented in the coming months. Thank you for standing up for juvenile justice!
….
New Prop 57 Video from Valencia STF!
Check out this video Valencia High School's STF chapter created to advocate for Prop 57. Please share on your social media accounts!
You can also use these additional social media resources to spread the word about Prop 57.
Thank you Valencia STF for creating this video!
…
The Value of Prop 57
November 1-2, 2016: In the final week before the election, guest speakers, Herminia Galvez and Manuel Barrios, helped Carson and Palisades Charter High Schools STF chapters drive home the value of rehabilitation and education programs like those offered in Prop 57.
More than 150 Carson HS students and teachers listened to Herminia's fight to achieve six years of sobriety after a judge helped her enroll in a drug rehab program. Manuel shared how working toward his GED and separating himself from gang life during his 23 years in prison has turned his life around.
At Palisades Charter HS, Herminia's sister, Maritza, explained to more than 200 students how Herminia's time in and out of detention motivated Maritza to work in the system and create change through legislation.
Participants in both events described the presentations as "powerful" and "enlightening." One student said, "Their stories are so relatable… I just wish more people could have heard them speak."
…
Giving Voice to Justice for Juveniles
October 24-25, 2016: STF leaders from Santa Clarita Valley, Palisades Charter and El Camino Real High Schools participated in events to educate their communities about Prop 57 and over incarceration in California.
Palisades Charter HS STF Vice President, Peter Jebsen, presented the pros and cons of Prop 57 to more than 70 criminology and sociology students at Mount Saint Mary's University on October 24. Formerly incarcerated youth, Herminia Galvez and Manuel Barrios, personalized the significance of Prop 57 by sharing their experiences in the California criminal justice system.
On October 25, Herminia and Manuel spoke to 200 students at El Camino High School, and asked participants to talk to their family and friends about supporting Prop 57.
At the Tri-Parish Community Event at St. Clare Church in Santa Clarita Valley on October 25, representatives of four Santa Clarita Valley STF chapters explained why California needs Prop 57 and read testimonies from youth in the justice system. Guest speaker Father Chris Ponnet of the Archdiocese of Los Angeles, added to the discussion on social justice by encouraging the audience to vote yes on Prop 62 and no on Prop 66, in an effort to repeal the death penalty in California.
…
California Needs Prop 57!
As part of the Fair Sentencing for Youth campaign, we are advocating for Proposition 57. Here are some reasons why California needs Prop 57:
In the U.S., every year as many as 200,000 youth are put into the adult criminal justice system, most of them for nonviolent offenses.
Over the last several decades, California has built 22 prisons and only 4 universities, passed more than 1,000 crime bills, and increased incarceration rates by more than 5 times.
Youth who are prosecuted in the adult system are 34% more likely to recidivate and with more violent offenses than those handled by the juvenile system. Over 6,500 people currently in California prisons were under the age of 18 at the time of their crime.
There are approximately 7,000 inmates in state custody who have completed their primary sentence for a nonviolent offense, passed a public safety screening, and would be eligible for parole consideration under Prop 57.
….
Californians Want…
Proposition 57 accomplishes this by:
Providing Incentives for Inmates to Complete Rehabilitation: Incentivizes people in prison who maintain good behavior and complete rehabilitation or education programs to earn credit toward release.
Permitting Parole for Rehabilitated Inmates with Nonviolent Convictions: Authorizes parole consideration for people with nonviolent convictions who complete the full sentence for their primary offense.
Preventing Prosecutors from Transferring Youth to Adult Court: Requires judges rather than prosecutors to decide whether a youth as young as 14-years-old should be tried as an adult. Judges are unbiased, and under Prop 57, would determine whether or not to send youth to the adult system after a hearing where the prosecutor, defense, psychologists, school officials and other people involved in the youth's life testify.
….
Today is National Voter's Registration Day!
September 27, 2016: This year, National Voter Registration Day is September 27, 2016 and hundreds of events are being planned across the nation. Get started registering your friends, family, teachers and others who are eligible to vote today!
Who Can Register to Vote?
A United States citizen,
A resident of California,
18 years of age or older on Election Day,
Not currently imprisoned or on parole for the conviction of a felony, and
Not currently found to be mentally incompetent by a court of law.
How to Get Registered:
…
California Chooses…
Our Fair Sentencing for Youth campaign asks the State of California to protect the human rights of all youth by revising the state's justice system to focus on rehabilitation and provide more opportunities for youth offenders to have a second chance. Did you know:
The U.S. has the highest rate of juvenile incarceration in the industrialized world, and the vast majority (3 in 4) of the country's incarcerated youth are held for non-violent offenses.
California spends $10 billion annually on state prisons, and local counties spend billions more on jails, juvenile halls and Probation camps.
Over 6,500 people currently in California prisons were under the age of 18 and as young as 14-years-old at the time of their crime.
California built 22 prisons since 1980, but only 1 UC and 3 California State Universities. We went from #1 nationally in education spending to #1 in prison spending. We are #47 in K-12 spending and #51 in funding for higher education. California now has 34 state prisons and only 32 public universities.
…
STF Calls for Fair Sentencing for Youth
Photos by Patricia Williams
September 10, 2016: The U.S. has the highest rate of juvenile incarceration in the industrialized world. And California has the highest prison budget in the world, with more than 100,000 people in prison and thousands more in juvenile halls, jails, and youth prisons. California went from #1 nationally in education spending to #1 in prison spending, and as low as #47 in K-12 spending and #51 in funding for higher education.
STF leaders confronted these facts at their annual fall leadership workshop, and were honored to meet with California justice system expert and longtime STF partner, Javier Stauring. Javier urged the students, "Take in the information, but explore justice from the heart." With the assistance of formerly incarcerated youth, Kent Mendoza, and Maggie and Itzel Bonilla, family members of a murder victim, Javier personalized the juvenile justice system and introduced STF's Fair Sentencing for Youth campaign.
STF has joined Javier and California human rights activists in supporting Proposition 57, a November ballot measure that demands a new vision for public safety, including the protection of youth from harmful transfers to adult court without a hearing before a juvenile court judge.
STF leaders are returning to their weekly chapter meetings prepared to share more information about bringing justice to the juvenile justice system in California. Leaders conferred on how to raise awareness and gather support for a new vision of justice with Proposition 57.
The STF fall workshop was generously co-hosted by Fullscreen in Playa Vista.
….
Save the Date: STF Fall Leadership Workshop!
Dear STF Leaders and Teacher Advisors,
Welcome to the 2016-17 school year. Please join us for the STF Fall Leadership Workshop (click to RSVP) to learn about our new fall advocacy campaign! The event is generously hosted at an exciting new high tech venue by Fullscreen, a creative media company.
Important Information:
Who: You, STF leaders, Teacher Advisors, guests, speakers
When: Saturday, September 10, 12:00pm – 4:30pm*
Where: Fullscreen (map)
12180 Millennium Drive
Los Angeles, CA 90094
Mark your calendars and RSVP today!
*Please note the afternoon start time due to morning ACT testing. Lunch will be provided.
….
Palisades Charter HS HRE Summer Institute
Building on last summer's successful Human Rights Education (HRE) Institute at Palisades Charter High School, HRE consultant, Nancy Flowers, returned to join more than 50 faculty and students to further expand HRE on campus. In the morning, participants focused on how to implement and disseminate the newly drafted Student Bill of Rights and Responsibilities (SBRR), which we believe is the first SBRR rooted in the Universal Declaration of Human Rights in the United States. After lunch attendees focused on identifying ways to include HRE in their coursework and to make it part of the school-wide culture.
Resources for the day:
"Bringing Human Rights Home" PowerPoint Presentation
Pali Student Bill of Rights and Responsibilities (SBRR) Documents
Photos by Patricia Williams