Genocide Awareness and Prevention Month is held each April to commemorate the victims and survivors of genocide. Scroll to review how STF has paid tribute to those who suffered unimaginable tragedy and get information about an upcoming event to learn about a contemporary genocide in the making.
Dr. Henry Oster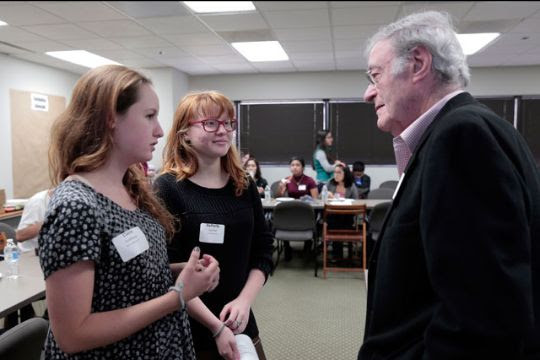 Dr. Henry Oster, born 1928 in Germany, survived deprivation in the Lodz Ghetto, life-or-death selection in extermination camps and a death march before liberation from Buchenwald on April 11, 1945.
"A 'seed,' is all it takes to see something blossom into widespread killing. The task that you have is to avoid apathy through awareness…" Henry told STFers, encouraging them to continue fighting for human rights. "The idea of living with intent to teach like you do, to teach (human rights), is a life task and thank you for doing it!"
Henry met with STFers at workshops in 2015 and 2016, and at the 2016 HRW Voices for Justice Dinner. Sadly he passed away in 2019. Learn more from his book: The Kindness of the Hangman.
"Sweet Dreams"
April 2015: STF chapters screened "Sweet Dreams", which explores the aftermath of the Rwandan 1994 genocide through the lens of women's empowerment.
Amy Marczewski Carnes, Rwanda expert and STF alumna, shared her travels to Rwanda, meeting the women portrayed in the film "Sweet Dreams". One Santa Monica HS student said, "By holding events like this, and having open forums for discussion, we can help prevent atrocities."
STF alumna Jasmina Repak, a refugee from Bosnia-Herzegovina, was on a school trip to Italy when the Bosnian Civil War broke out. At a screening of "Sweet Dreams", Jasmina spoke to Carson HS students about what it took to reunite with her family, the fear she faced each time her father was arrested during the war, and how learning about the genocide in Srebrenica affected her family.
"Jealous of the Birds"
February 1, 2018: HRW and STF supporter Susi Bahat spoke about her family's experience in the Holocaust at STF's 2018 Winter Workshop. Susi was the daughter of Holocaust survivors who remained in Germany after World War II. Susi explained that the experience living among perpetrators of that genocide inspired her to fight against human rights abuses. Her family's story is the focus of the film "Jealous of the Birds."
Rita Lurie and Leslie Gilbert-Lurie
Rita Lurie, a Holocaust survivor, and her daughter Leslie Gilbert-Lurie met with STFers at the 2019 Year-End Workshop and again during STF's first-ever virtual event in 2020. Rita described how her family spent two years hiding in a tiny attic in Poland during the Holocaust and she read a passage from her memoir she wrote with Leslie, Bending Toward the Sun. The mother-daughter duo helped STFers better understand the horrors of genocide and how deeply the Holocaust lives in the hearts and minds of survivors and their descendants. They generously gave every student a copy of their memoir.
Bill Harvey
February 11, 2020: Holocaust survivor Bill Harvey shared his story of surviving the horrors of Auschwitz and Buchenwald Concentration Camps at STF's 2020 Winter Leadership Workshop. Bill defines success in life by the impact and the good that you share with people. He urged students to speak up against discrimination in every form, "Never stay silent!"
In a note to STF Director Pam Bruns, Bill wrote, "I was very gratified to spend the evening with such wonderful teenagers. They were all extremely bright students and their involvement (in human rights) will surely make this world a better place to live in. And if I left even the smallest impact on their lives, then my day was made."
Imran Mohammad
At the last HRW Voices for Justice Dinner, Imran Mohammad inspired STFers to stand up for those without a voice and to take action against human rights violations around the world. Imran, a Rohingya refugee, fled for his life at age 16. Despite achieving refugee status by UNHCR, Imran was held in immigration detention in multiple countries, including the notorious Manus Island Detention Center on Papua New Guinea, where he sustained physical and psychological torture.
Imran will meet with STF members again and speak about genocide and climate change on May 5, 2021 at 7pm. RSVP today to participate in this virtual event!