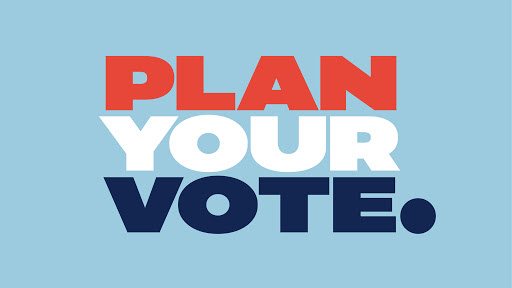 With only 33 days until Election Day 2020, have you already made your plan to vote? Here are important tips to help you develop your voting plan and ensure your vote is counted in this general election.
1. Check your voter registration status (and check again)
2. Register to vote (or preregister if you are 16 or 17 in California)
3. Decide how and when you will vote:
Vote by Mail: All registered California voters will be automatically sent a vote-by-mail ballot between Oct. 5-27. If you've recently moved, you will need to return this vote-by-mail ballot application by Oct. 27.
Make your selections. Don't forget to vote all the way down the ballot!
Insert your ballot in the pre-paid envelope provided. Complete ALL required information on the outside of the envelope, including sign and date the back of the envelope.

Note: Every signature is verified by county officials before the ballot can be counted.

Return your ballot by:

Mail: Ballot must be postmarked no later than Nov. 3 and received by your county elections office no later than Nov. 20.
In person: Ballot must be delivered no later than the close of polls at 8pm on Nov. 3.
Drop box: Find your nearest ballot drop-off location

Track your ballot: California Secretary of State is offering Where's My Ballot?, a new way for voters to track when their ballot is mailed, received and counted. Sign-up to receive email, text, or call notifications about your ballot every step of the way.
Vote in Person:
Early voting: Find early voting hours and locations near you. You can vote in person Oct. 24-Nov. 3 in LA County.
Election Day: California polls are open 7am-8pm. Your polling location is on the back page of your County Voter Information Guide mailed on September 24. You can also find your polling place online, call (800) 345-8683 or text "Vote" to 468683.
What to bring:

If you've voted in California before, you don't need to show ID.
First-time voters may be asked to provide ID. California Secretary of State has a list of acceptable forms of ID.
Now that you've developed your own voting plan, encourage others to do the same. Let's get out the vote early this year!